There are many places to eat in Mexico City. Some chilangos even assure that it is possible to have breakfast, lunch and dinner in a different place every day for more that ten years, as according to the National Statistics and Geography Institute, in the Mexican capital there are more than 54 thousand economic restaurant units. Can you imagine? And we are only talking about food, as responding to the question "what to do in Mexico City?" wakes up another infinite list of activities.
Thus, in Sabores México we continue with the idea to share with you our cultural and gastronomic favorite spots.
---
Volume 3
For the third volume or our Local Map, it was Dulce (Dul) and Sofía (Sof) who shared with us some of the places worth knowing in our beloved city.
1. Nagaoka
Located in the Nápoles neighborhood, this traditional Japanese food restaurant transports us immediately to an Asian island, as through its food products they seek to approach its foodies' happiness. What makes Nagaoka one of the best Japanese food restaurants in the city is that they transform Mexican ingredients into elaborete Japanese dishes with home technics supported by tradition. Some of the favorites are the kitsune udon and the zaru soba.
2. Avocado Alley
This corner in Coyoacán is one of the most famous alleys in the quarter, for in spite of being quite narrow, it posseses various scary legends that make many people think twice before touring it. Do you dare to prove if it is certainly bewitched?
3. XUVA'
This spot in Santa María la Ribera picks up the Nahuas cullinary practices and presents them in dishes with a gourmet touch, using the local technics and ingredients and regaining the cultural meanings of each one. Juan Aquino, Oaxacan chef of XUVA' is convinced that gastronomy connects us with our past history's greatness and our present's pride. Therefore, the antique house in which the restaurant is located is decorated in a modern manner and has a lot of vegetation, with the objective of transporting the foodies to Oaxaca.
4. Palmeiro Ice-Cream Parlor
One of the best ice-creams in the city is located in a commercial stand inside the Market of Medellín in the Roma neighborhood. The owner is a Cuban man who arrived to Mexico and from many years ago offers exquisite Cuban coffees and incomparable ice-creans like buttermilk, fig with cognac, caramel, "mantecado" and many more flavors. Whether you enjoy it at the bar or take-away for later, these ice-cream are always warranted.
5. Popular Art Museum
Dedicated to promote and preserve Mexican popular art, this museum located in the Historic Downtown of the city is famous for its collection of ceramics, typical outfits, "alebrijes" and toys. On top of that, it offers severlas workshops, courses and seminars throughout the year for artisans, children and any interested person in Mexican arts and crafts.
6. Zinco Jazz Club
Behind a hidden door in the Historic Downtown a small and exclusive jazz club is located. Zinco Jazz Clubs opens from Wednesdays to Saturdays from 9pm and relies on the presence of one or more jazz artists. To best enjoy the show, it has a refined cocktail bar and an international food menu. The cover payment varies between $150 and $300 and the average ticket is aproximately $350 per person.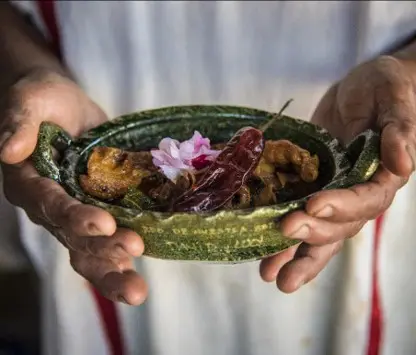 ---
Volume 4
A month after the third volume of our Local Map, all the saboristas in Sabores México Food Tours were excited to share places and restaurants. Following up, the interesting recommendations of Fernanda (Fer) and María José (Majo).
1. Dolores Olmedo Museum
The ancient estate of La Noria at the south part of the city transformed into this museum, recognized for its beautiful and extensive gardens, its peacocks, xoloitzcuintles and, of course, the more than 900 Prehispanic pieces which are exposed along with artworks from Diego Rivera, Frida Kahlo, Angelina Beloff, and Pablo O'Higgins. One of the best periods to visit this museum is from October to December, as in these months you will also find the majestic Día de Muertos altar which is assembled each year.
2. Morisco Kiosk
As one of the main attractions in the Santa Maria la Ribera neighborhood, the kiosk is one of the many artistic monuments of the National Anthropology and History Institute. This colorful kiosk was built for an exhibit in New Orleans and, even if its smelting was planned in the United States, the Mexican engineer achieved for it to be brought back to the country, where it has remained since and outstands for its colorful Arab-styled headpieces.
3. Maison Française de Thé Caravanseraï
In the busy street of Álvaro Obregón Avenue in the Roma neighborhood, this space is located and offers a relaxed environment around  tea. In this house, whose menu contains more than thirty pages, there are diverse living rooms set out around China, France and the Arab world, and an unimaginable variety of teas. Once you have chosen one of the 200 available teas, we recommend you to ask for the dessert that best pairs with it.
4. La Caravana CDMX
This is one of the unique board game clubs in the city. It is located in the Tlacoquemécatl Del Valle neigborhood and, besides having great beverages, hamburgers and snacks, it owns more than 200 board games that can be played time-free for a single payment of $50. In La Caravana there is a red light guide for board games which indicates the difficulty of each one and, further more, every waiter knows how to play them and can explain them to you if you are not familiar with them.
5. C.O.M.E
C.O.M.E., aka "Cocina Original Muy Enternacional" (Original and Very Enternational Food) is located in the Roma neighborhood and is and excellent option for Japanese casual and good price food lovers. Even though there is an á la carte service, in his oriental stand almost every client opts for the Menu of the Day, which includes miso soup, rice, a choice of three different stews or main dishes, tea and dessert.
6. The Dinamos
In the municipality of Magdalena Contreras this natural space is located, opened every day from 6 am and available for a series of activities like hiking, trecking, picnicking, or just escaping from the great chilando metropolis. The dinamos is an excellent place to spend with the family, exercising or going out to an adventure with your pets.
---
We are certain that after checking out these recommendations you must be hungry and willing to go out from home, so I invite you to explore Mexico City and follow the options you liked the most from our third and fourth Local Map Volumes. Remember to follow our blog and social media, Sabores México Food Tours (@saboresmexicoft) to get to know Mexico City like a local.